Book - Abundant Health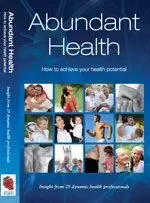 The innate intelligence of the body which created it really does have the ability to heal itself." This according to Dr. Kathy Rasch, a local Chiropractor and Wellness Coach from Wellbeing Group Mt Eliza and one of the contributors of the recently published book 'Abundant Health - how to achieve your potential health'.
Abundant Health is aimed at anyone who is looking to move beyond the allopathic approach and acknowledge the innate intelligence that lives within each of us.
The book shares steps and strategies to holistic family health care through our life cycle.
Maintaining or regaining health from pregnancy and birth through raising children without medication to injury or illness such as heart disease or arthritis later on in life.
Cost: £2.00 plus postage & packaging (UK only)